Sporting Events, Fixtures and Results
Carden pupils continue to be active both during and after school. This term they have taken part in many city wide competitions showing the other schools in the county just how talented they really are. Take a look at some of the photos below that capture the pupils achievements
Sport Fixtures 2020-21
Sports fixtures are going to look a little different this year with current Covid-19 restrictions we cannot play against other schools in the usual way. However there are plans for lots more virtual competitions, mirroring the format of those that we had over the summer months. Watch this space to find out more!
Sports Star Visits Carden
The excitement could be felt in school before our team GB athlete arrived. We were a little worried at first as Luke was no where to be seen but we soon had a message to say that he was stuck in traffic as there had been an accident and he would be with us very soon. Year 4 were ready and waiting when he arrived and got straight into the exercise circuit . There was a great atmosphere as each class came to the hall and were cheered along by other who were waiting for their turn. The sports Captains all did a fantastic /job of keeping everybody motivated as well as being runners to go and collected the next class. Once the circuit was finished it was time for those pupils who had raised over £35 to have a special photo with Luke and get to talk to him a little. To finish the visit everybody who had taken part in the circuit came together to listen to Luke's story in an assembly. There were also lots of fantastic questions that pupils also asked such as how many races had Luke taken part in and how many medals he had won. We finished by award those pupils who had raised different amounts with their rewards; those that raised £5-14.99 received a signed postcard, if pupils raised £15-34.99 the received a poster and those that raised over £35 got to come up to the front in assembly to received their signed polaroid. Here are some pupils who deserve a special mention as they raised over£50. Well done to Shiv, Lilah B, Naziha, Lenny T, Miley P, Ronin H, Fraizer and Josh with a special well done to go to Riley B in year 3, who raised a whopping £99!! In total we raised a very impressive £1954. Well to all of our Carden superstars who took part, maybe we have the next team GB athlete!
Here are some photos of our fantastic morning.......
Carden Sports Day
On the 10th July all of Carden pupils turned into mini athletes as they took to the Field for the annual sports day. Pupils had been practicing hard like true athletes in lessons to make sure that they were at their best to perform on sports day when they had the support of their friends and family's watching. It was the turn of the Key Stage 2 pupils to compete in the morning and they marched out onto the field dressed in house competitive colours. The morning began with a caroused of activities that challenges the pupils in lots of different ways from 'cone flipping' to Basketball shooting and Vortex howler throwing and let's not forget the wacky water race! These stations gave pupils the opportunity to compete against other members of their class. Then followed the long run; a few changes had been made to this this year as the second on the top field was removed but this meant that onlookers could watch the whole race! There were some very close races and all pupils really showed the sports value of determination just to get to the finish. Those pupils that finished in 1st, 2nd or 3rd where awarded for their efforts with a shiny medal. After the long run we then move onto the much shorter sprint races; some of these races where so quick that if you blinked you would have misses them! Although we didn't have VAR on the finished line we had plenty of places judges to be sure that we got the finishing places correct. Again pupils where awarded medals just like in the Olympics for 1st 2nd and 3rd place!
After lunch it was time for the younger pupils to step out onto the sports field. It was great to see so many of them excited and full of energy ready to participate. The stations where a little different for the younger pupils; they had a modern day version of the egg and spoon race with a cricket bat and bean bag, scooter boards and some over/under obstacle relays to contend with. The younger pupils had been working really hard to improve their skills and this really showed when they participating. After the stations once again came the long run; this was a little shorter than it is for the older pupils but wsa still a long way for little legs! From each year group boys and girls stepped up the start line showing excellent ready positions. They all cheered each other as they completed a lap of the track before being awarded a medal if they finished in the top 3 positions. It was great to see so may of the younger pupils remembering that its is the taking part that counts and being so grown up when they just missed out on getting a medal.
Its really important at Carden that all pupils are recognised for working towards their personal best. For some pupils a personal best will not result in a podium finish which can become demoralising when pupils have tried so hard. We therefore asked that during the day teachers to look for pupils demonstrating the sports values as these are just as important as being good at sport. Values they were looking for included determination, passion, self-belief, honesty, respect and teamwork. Pupils who have been awarded these where then revealed in our PE presentation assembly.
| | | | | | | |
| --- | --- | --- | --- | --- | --- | --- |
| Class | Determination | Self-Belief | Honesty | Respect | Teamwork | Passion |
| RKS | Maddison B | Halle H | Jayden F | Rebecca A | Max K | Raham N |
| RJP | Herbiw M | Ethan R-H | Nala M | Bailey B | Olivia D | Fillip I |
| 1HE | Malakai K | Seth H | Ava M | Fleur B-L | Matthew F | Logan T |
| 1SV | Brody O | Ava K | Yaarub H | Mahalia M | Kevin H | 1SV! |
| 2AB | Gift D | Mya D | Francis B | Lenny T | Sammy W | Rylee D |
| 2WF | Maxx H | Rosie H | Ruhama | Stanley B | Lola B | Bobby B |
| 3EG | Sonny G | Finley M | Alicia T | Lilly-Grace G | Dexter W | Evie J |
| 3JW | Shiv P | Evie S | Lois D | Riley B | Kuba I | Cody R |
| 4NP | Stanley R | Georgia A | Raheen M | Yeseo H | Leo W | Valentina A |
| 4AC | Alexis D | Rudi T | Isis-Sophia | Zakie I | Agnes F | Connie W |
| 5HS (a) | Charlie F | Aisha Y | Year Group | Josh H | Gracie L | Emily M |
| 5HS (b) | Tobiasz L | Arvin K | Year Group | Izma A | Levi W | Lilly W |
| 6BT | Yasmin C | Marcie S | Tomas F | Freddie M | Jack B | Beau G |
| 6RM | Evan A | Stanley B | Aslan R | Masse R | Sienna R-H | Mia W |
Inter-School Key Stage 1 Multi Skills Festival
On a windy Wednesday afternoon Year 1 and 2 pupils set off to participate in their first ever multi skills sports festival at Dorothy Stinger High school. This is the first time any of our younger pupils had been to a sports event as part of team Carden. The session started with some fun games where Carden pupils go to know the event leaders and the participants from the other schools. The pupils were then divided into groups and took part in lots of funs activities where they developed their hitting, throwing and catching skills. As always the pupils behaved very well and remembered to be respectful lions when the coaches were talking and when working with pupils that they didn't know. The event focus was on participation and fun rather than being competitive so there were no medals or trophies to be won or overall winners. All the pupils really enjoyed themselves and had a great time playing sport for the afternoon. Well done Tom S, Filipe M ,Yarrub H, Ronan S, Patrick O, George H, Mason A, Evie H, Pip B, Tommy W, Malaki , Lennon S, Stan B, Nevaeh M, Freya H
Inter-School Indoor Athletics
The year 5 & 6 Carden Athletics team excitedly headed for BACA on Wednesday 23rd January to compete in the annual Indoor Athletics competition. We were one of the first teams to arrive so had lots of time to get warmed up whislt we waited for the opposition to arrive. A total of 8 schools soon piled into the sports hall and the competition was set to start. After listening carefully to the important rules and running order of the afternoon it was time for the athletes to start competing. It started with the obstacle relay which included the high stepper, speed bounce and big hurdle with a quick turn onto the turning board for a long sprint back to change the baton. Carden girls took to the stage first of all and had an amazing start as they took an early lead and held it all though the race finishing way ahead of the competition. The events continued with the boys taking part in the obstacle relay who had a really close finish for 1st, 2nd and 3rd. It was then time for the boys to head to the field events and take part in the standing long jump, vertical jump, triple jump and chest push. The girls continued on the track and took part in the 2 x1 lap relay and the 2x2 lap relays. The girls did fantastically in these events taking 1st and 2nd place in each event. As the afternoon continued the Carden athletes continued to show their sporting talents winning races on the track and jumping over 4 and a half metres on the standing triple jump. As the afternoon came to a close it was time for the final events and one of Carden's favourites; the speed bounce. This is always a great event as each school takes to their station in front of all of the other competitors. Carden bounced their way to top scores with each athlete achieving an amazing amount of jumps in just 20 seconds; Naziha jumped 42 times, Vincent jumped 44 times, Josh jumped 47 and Kate jumped 48, whilst both Celia and Reuben jumped an impressive 49 times!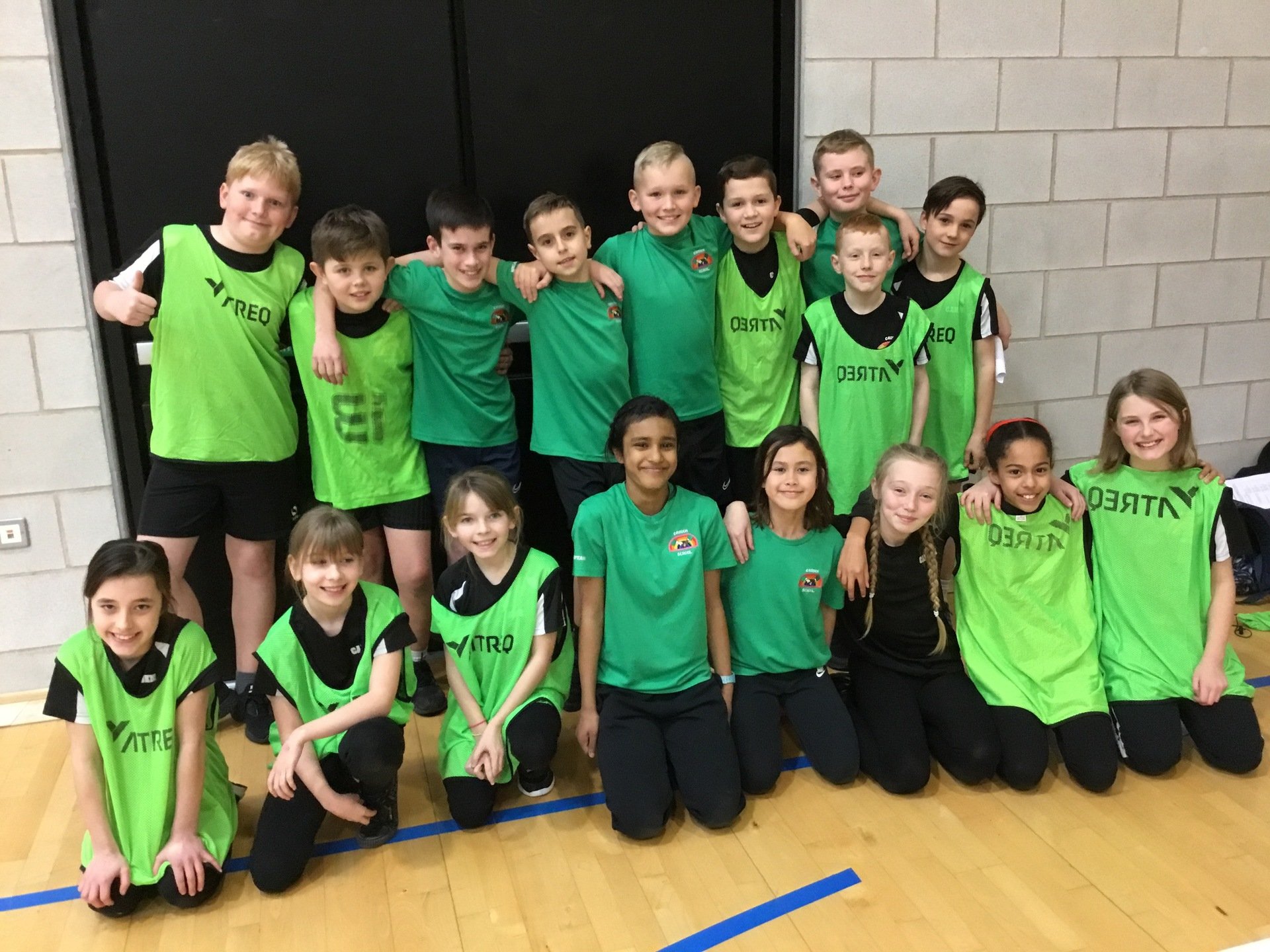 Inter-School Cross-Country
Carden had an excellent afternoon at the inter-school's cross county. It was fantastic to see so many of Carden's athletes taking part in what is a gruelling and cold event! Take a look at the photos below that capture the pupils in action.
Inter-School Gymnastics
Carden's gymnasts flexed their way through floor routines and leapt over vaults demonstrating excellent body awareness and tension. It was a tough competition aimed at novice performers. So many schools entered the competition could not be held on one day and had tot take place across 3 different afternoons. Carden finished in a fantastic 6th pace overall out of 15 schools. Take a look at the photos below of pupils below showing excellent extension and body control.
Lets Dance 2020
As panic was erupting across towns and city's due to the Covid-19 our dance performers stayed cool calm and collected as they prepared to take part in a Dance showcase with 500 other pupils. On Tuesday afternoon the performers set off to the Dome for the dress rehearsal in preparation for the big evening performance. Costumes were on and hair was tied in French plaits and they were looking like warriors about to go into battle. When we arrived we were shown down to our dressing room and everybody was very excited to see the we had been given the VIP dressing rooms! This meant there were lots of mirrors to check how everybody was looking before the event as well as our own water fountain and toilets. We were then shown up to the stage entrance and they were ready to find our starting positions. The performers were like professionals as they took to the stage using the space as though they had performed there hundreds of times before. After a couple of run through our practice time was over and it was time to move over and allow another school time to rehearse. We all boarded the bus excitedly back to Carden. All the performers then had a little time to go home and rest before their big night on stage. Everybody met outside the Dome by Mrs Days specially painted circle! We then joined the many other children who had all arrived ready to perform and went in to find our VIP dressing rooms. Carden were on stage 3rd so we had a quick turn around when we arrived to make sure that everybody was ready in time. It was then time for our performance and we were called ready to perform, there was lots of nervous excitement as we had to wait in the wings but then the time arrived. All of Carden performers professionally entered the stage and took to their starting positions ready for when the lights came on. There was then thunderous applause as the performers moved from move to the next with some excellent acrobatics and dance movements combined. In the blink of any eye the performance was over and there was an ever louder applause with cheers from proud parents as Carden took their bow on stage. We then excitedly returned back to the dressing room to talk about the performance and how everybody was feeling. We had a little bit of time down in the dressing room before it was half time and we were allowed to then go up into the auditorium and watch the second half of the show. Overall it was a great performance by all of our Carden pupils and they made me feel very proud; well done Dolly, Georgia, Emily, Celia, Mati, Aidan, Emily, Gwydion, Manuella, Gracie, Katie and Izzy. Also a special thank you to Karen in the office and Mrs Longton-Howorth for supporting the dancers
Year 5 & 6 tag Rugby Team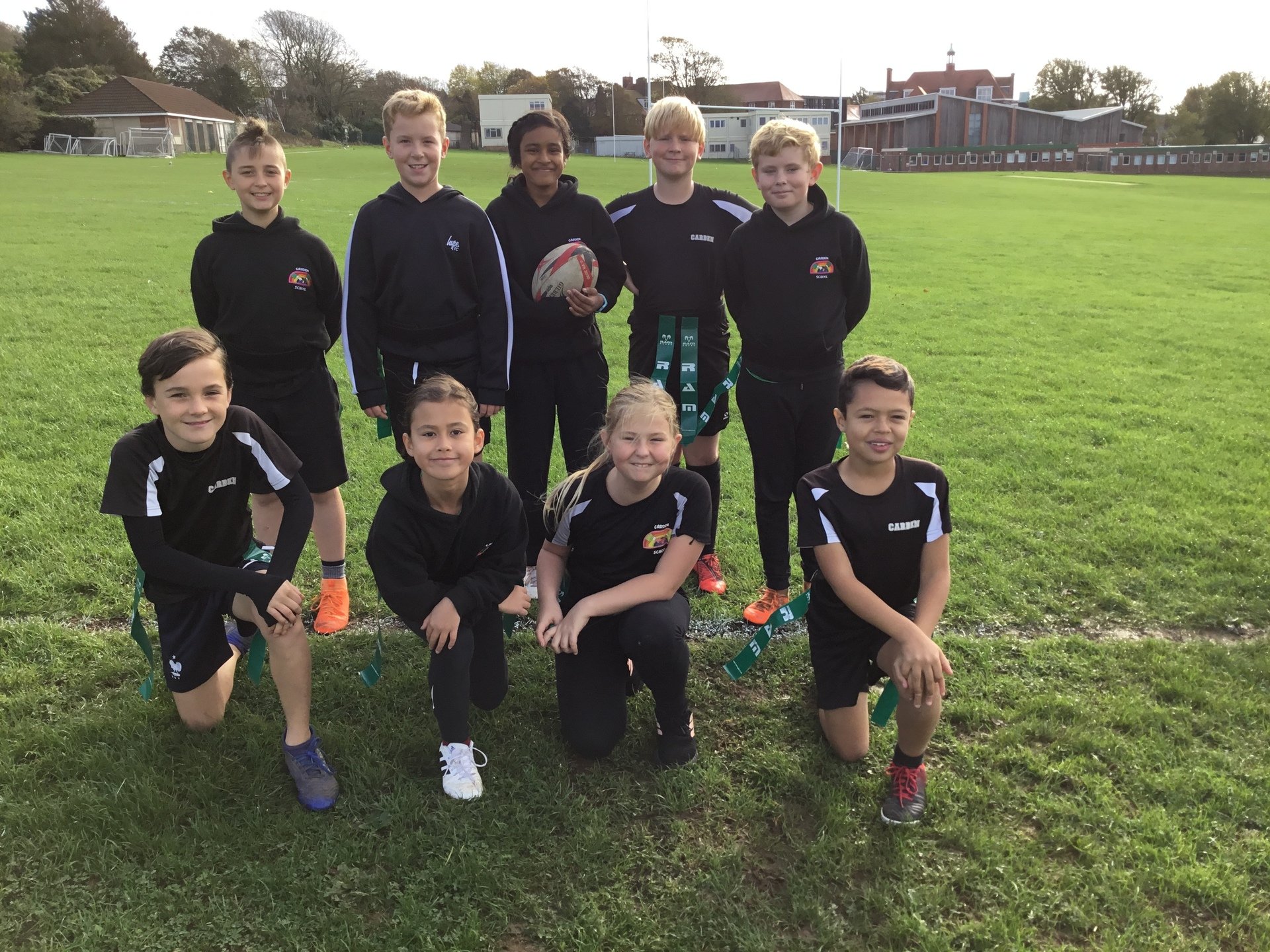 Year 5 High 5 Netball Team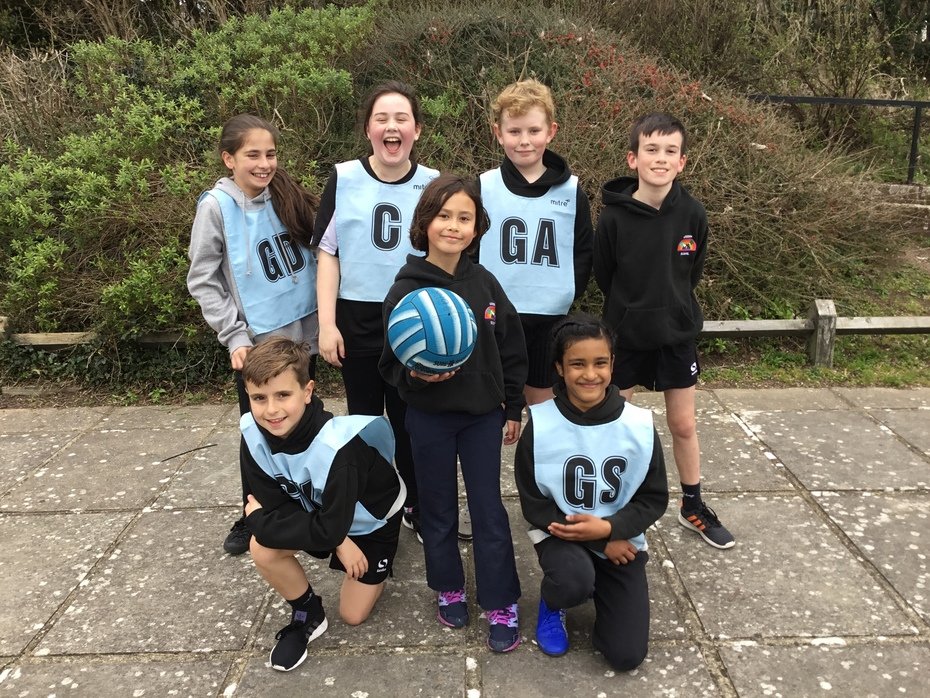 Year 5 & 6 Football Team