Active Travel
'Riot Act' comes to Carden
As Part of our Active Travel Programme Year 5 and 6 were visited by the performance company 'Riot Act' who performed a show based on Road Safety titled 'Alex & Jay on the Street'. The show was not only fun to watch but had lots of meaningful message messages which the pupils were able to learn about and take away to put into action. The performance and promoted essential road safety information including; equipping pupils with essential skills to stay safe when travelling on and around roads, highlighted the negative impact of excessive traffic and parking outside of schools, promoted key safety messages, looked at the implications of traffic outside of the school gates and reminded pupils the importance of 'stop, look and listen' before crossing the road.
The overall aim of the show was to provide pupils with the knowledge to contribute to a longer-term behaviour change that benefits individuals, communities and the wider environment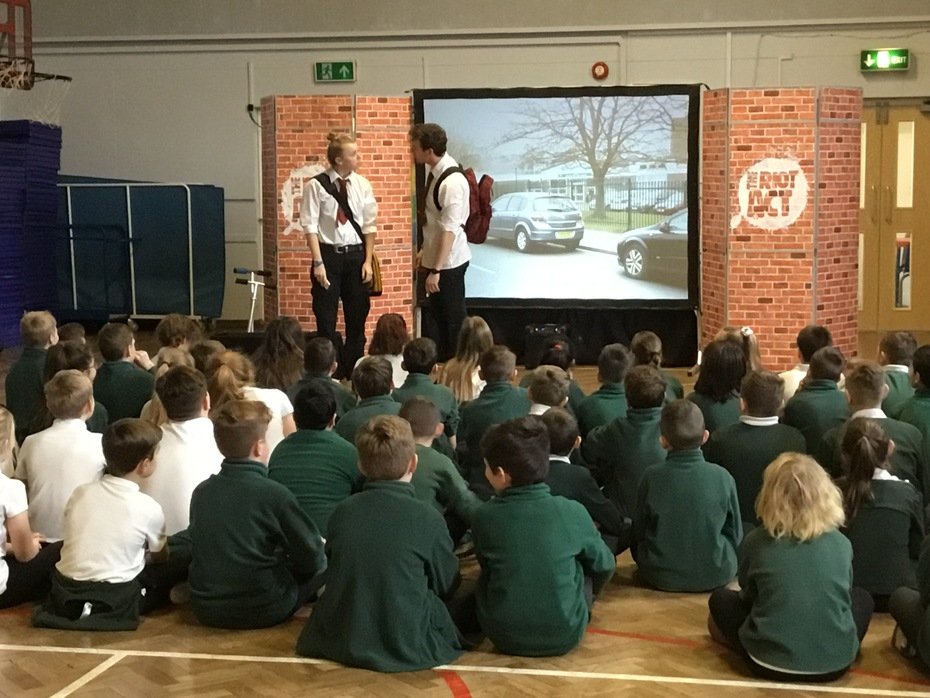 Why is Road safety important?
Road incidents are a major cause of injury and death for young people across the UK. As young people get older and move from primary to secondary school, making more and more independent journeys, they become more at risk of being involved in a road incident. Adolescents between the ages of 12 – 16 are in one of the most vulnerable groups of road users accounting for 51% of all child road casualties (0 – 16 years). Making young people aware of the risks and providing them with strategies to take positive actions to remain safer are important parts of their development. Walking and cycling should always be encouraged amongst young people as sustainable travel is an important part of staying healthy and active; teaching road safety alongside this helps them to become safer and more confident independent travellers as well. Congestion and Parking Outside of Schools The issue of excessive traffic and inconsiderate/illegal parking outside of schools is one that has many negative implications on safety and the environment – from local air quality to climate change. Badly parked cars around schools make it more difficult for pupils and other pedestrians to stay safe, reducing safer places to cross and impeding their ability to stop, look and listen effectively. Excessive traffic and congestion also causes chaos on the road and increases the amount of carbon emissions through exhaust fumes, which has a huge impact on personal health within communities.
Year 1 Child Pedestrian Training
This term Year 1 have taken part in the Brighton and Hove Child Pedestrian Safety Training. Each week for 5 weeks they have been taken out on a Monday morning to explore key road issues. They have looked at key topics including 'Vehicles', being by the road, safer places to cross the road, what are the safest routes to travel and how parked cars can be dangerous when crossing the road.
All pupils now know how important it is to Hold hands, stop, look, listen, think! Remember to remind your children of these key messages when traveling to school or on fun days out at the weekend.
Level 1 Bikeability
This term year 5 pupils have been busy learning how to travel safely on their bikes. The year 5 pupils battled the wind and the rain to complete their Level 1 Bikeability course. Bikeability is "Cycling Proficiency" for the 21st century, designed to give young people the skills and knowledge to cycle safely on today's roads. On Bikeability Level 1 your pupils learned how to be in full control of their bike and prepared them to go out on the road. They used the playground as a 'road' and learnt how to take their hand off to signal the direction they would like to travel without falling off as well as important lessons in to safely travel with their bikes. Pupils who passed will receive a certificate to recognise their achievements but the biggest achievement area the lesson they have learned on how to travel in active ways keeping them fit and healthy but also staying safe.
Learn to Ride
Some Year 5 pupils have not always had a bike to learn to ride. Riding a bike is an important life skill. Encouraging pupils to ride a bike while they are young helps to establish healthy exercise habits that are likely to stay with them for life. Riding a bike not only improves physical fitness, it also benefits learning development and mental health. For this reason, it was felt really that it was really important to make sure that all pupils in year 5 have the opportunity to learn ride before they leave Carden. We are lucky enough to have a bike shed with lots of Bikes in that means we had bikes for these pupils to practice and participate in the course. Eight year 5 pupils bravely took to their bikes and sent some time learning how to balance and steer the bike in the right direction. All pupils really developed their riding ability and finished the sessions with smiles too.
What to watch out for in Active travel!
Over the coming months Year 5 and 6 will complete either the Level 1 or Level 2 Bikeability Course.
At the end of the Summer the Year 2's are scheduled to take part in 'Scootability'!