English
Link for reading asssesment: https://www.testingforschools.com/CPS195
At Carden Primary School, we consider reading and writing to be essential life skills. We believe that children should be encouraged to develop a passion for the subject which will empower them to communicate effectively and confidently in a range of contexts and achieve their full potential within English and across all subjects. Children have the opportunity to develop their writing, phonics, spelling, handwriting, speaking and listening skills across the curriculum as well as in specifically designated daily literacy lessons.
Our Curriculum
Our English curriculum is centered around the understanding that a rounded learner will be one that has mastered core knowledge and skills related to a subject area (Foundational Learning), can articulate and synthesise knowledge and skills across a range of domains and concepts (Conceptual Learning), can work with others to apply learning to authentic tasks and challenges (Collaborative Learning) and knows themselves well as a learner - both how they learn and how their learning relates to their individual plans (Personal Learning).
Reading
At Carden Primary School, we believe that guided reading, independent reading and adult lead reading are all crucial for helping develop the children as life-long readers. We work on elements such as phonics, information retrieval and text comprehension. Guided reading takes place every morning for half an hour during which children either work with an adult or are set reading related tasks. Phonics is also taught daily across key stage one through teacher driven sessions and various games and activities.
Each classroom has a designated reading area containing a range of high quality books that stimulate and challenge children in their reading choices. A wide variety of books, poems and plays are read to the children by their teacher to promote a love of books. Children are also encouraged to share and recommend favourite stories with their peers and with other children across the school. Published authors and poets often visit Carden and share their reading and writing experiences with the children.
Writing
Many strategies are used to support the development of writing. 'Talk for Writing' is a central approach across all year groups that allows children to explore ideas through analysing and adapting texts through a range of drama, role play and speaking and listening activities. Children are encouraged to 'magpie' or borrow ideas from other authors and writers (including each other) and incorporate them into their own writing. During this process children follow different stages which support and develop their writing:
Imitate – learning and retelling the text

Innovate – talking a text and changing elements such as the character or setting

Invent – independently applying what they have learnt to their own writing
English Support
At Carden we want every child to reach their full potential in English. There are a number of English interventions that take place at Carden to ensure children are reaching their full potential by the time they reach the end of key stage 1, and for pupils who need additional support in KS2
Carden employs a specialist literacy teaching assistant who works 1:1 with those pupils who are struggling with reading and writing. This intervention can last for up to 20 weeks and incorporates both reading and writing. All staff receive regular training and support to ensure that strategies for supporting the development of reading and writing are embedded across the school.
For pupils who need a 'lighter touch' intervention, we run several English interventions at Carden delivered by trained Teaching Assistants. These include Fischer Family Trust, which is a daily intervention to support reading and writing; Better Reading Partners which is a reading intervention which happens 3 times per week, and Write Away Together which supports the writing process. We also deliver a reading booster scheme called 4 week reading. Parents of pupils who receive these interventions are invited in for meetings to share the aims, and also encouraged to support their children at home.
Poetry competition
We had a fantastic response to the poetry competition about Light, which followed on from National Poetry Day. It was very difficult to judge because of the high standard of work, but eventually winners were chosen and their work displayed on poetry trees around the school for all to enjoy.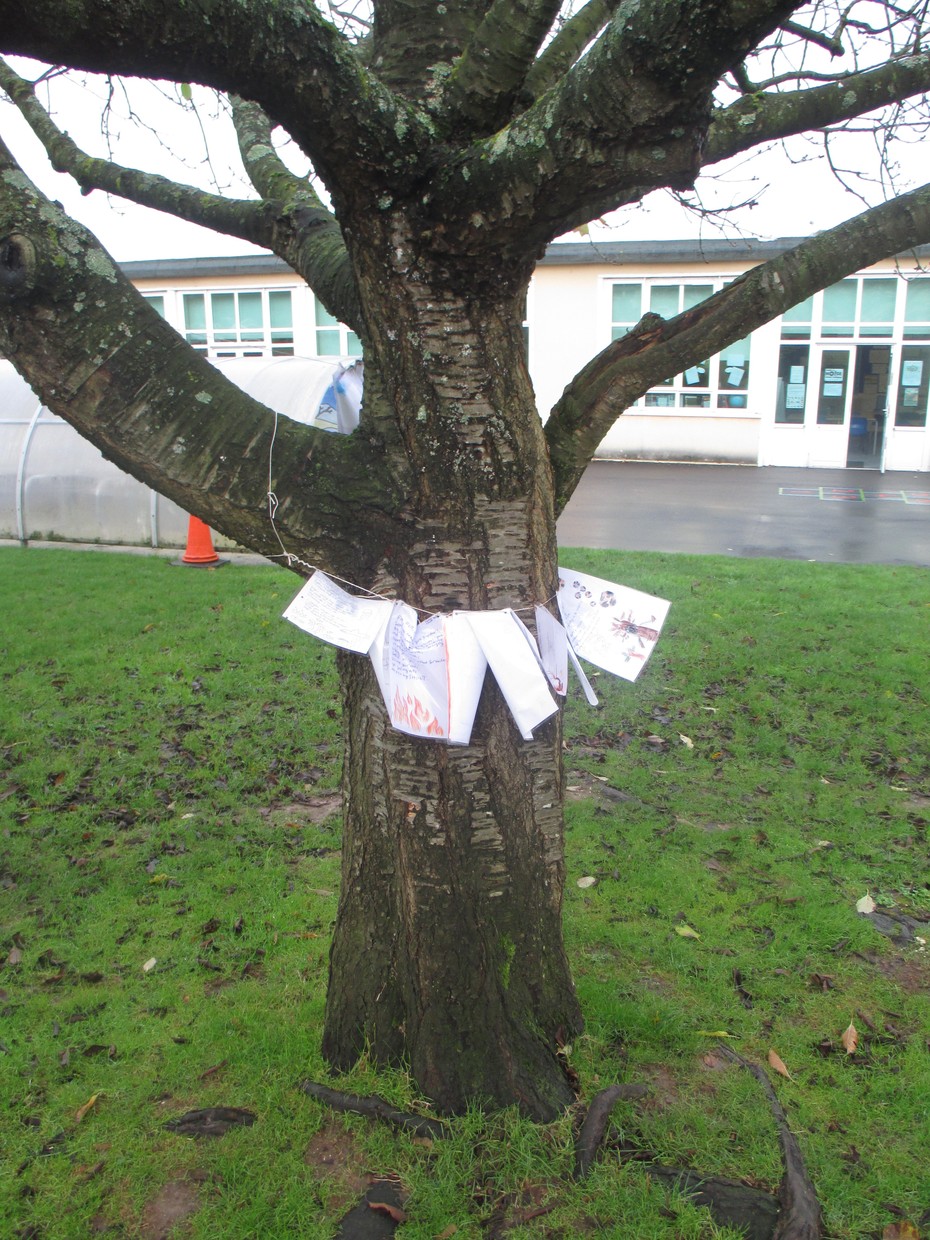 Big Write has arrived at Carden!
Big Write is an initiative used in many parts of the country as a way of raising standards in writing. At Carden we have a Big Write session fortnightly which gives children the regular opportunity for an extended piece of writing, in addition to the daily English sessions. There is a Big Talk homework the night before so that learners can share their ideas at home and begin to bring together thoughts about the piece of writing they will be doing. The week after, the children have the time to improve their writing, with the support of their teacher. There are also daily, short burst activities, which support the acquisition of new skills. The children have taken on the challenge with enthusiasm and are really enjoying the Big Write games we play!