Year 4
Welcome back to what promises to be a fun and action packed term for year 4 at Carden. Click here for our topic web and please don't hesitate to ask us questions on any area of the curriculum. Keep your eyes peeled on our page as we'll be posting some photos of the exciting learning that will be taking place over the next few weeks.
Fishbourne Roman Palace
We enjoyed a fantastic trip to Fishbourne Roman Palace this week. We learnt about Roman life and looked closely at the beautiful mosaics. We all enjoyed dressing up as Roman slaves and some of us even got to become a Roman prince or princess. Then, we got to experience chores and activities that the slaves would have had to carry out.
Maths
We have started the year by looking at place value in maths. We enjoyed exploring numbers using various strategies. This included getting out of the classroom and being active with our learning.
English
After the big birthday bash, we started to look at a specific form of poetry. Cinquains allowed our imaginative juices to flow and we created some really fantastic 5-lined syllabic poems.
Science
Our first topic is animals including humans. We have learnt about the human digestive system and have been delighted with all the gruesome details and disgusting facts. We had to really use our knowledge in a different way to create our own models of the human digestive system.
Year 4 Rainforest stunning start
To kick start year 4's Rainforest topic, we immersed ourselves into Amazonian life for a day. This included listening to and acting out the 'Great Kapok Tree' story, going on a fact finding mission to learn more about rainforests and producing rainforest
art to brighten up our classrooms. The day ended on a high note as we listened to Charlene tell us stories about her dad's childhood, who grew up in Guyana in South America where the rainforest was right on his doorstep. She even treated us to coconut rice and peas – a dish favoured by the locals!
Diwali
In RE, we have been learning about the religious festival Diwali, known as the festival of lights. We made our own diva, a traditional candle holder. We also designed our own rongoli patterns and decorated them with coloured lentils and rice.
Roman Army Formations
For our Roman topic, we have been learning about some of the Roman army battle formations. We then used multi-link cubes to recreate these formations. We hope you like them!
The Tortoise:
The tortoise was a essentially defensive formation by which the legionaries would hold their shields overhead, except for the front rows, thereby creating a kind of shell-like armour shielding them against missiles from the front or above.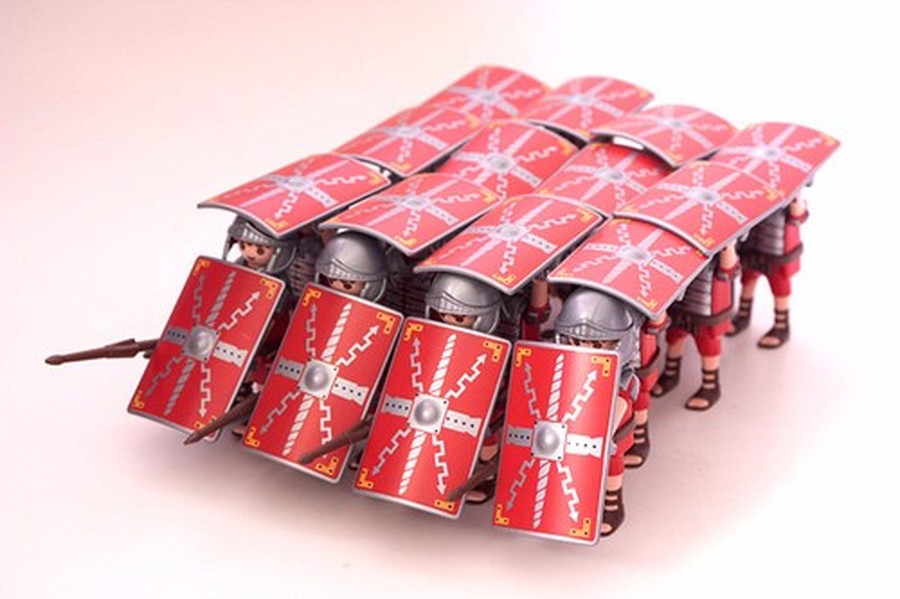 The Wedge
The wedge was used to 'crack open' enemy lines. Soldiers formed up in a triangle, the front 'tip' being one man and charged towards enemy lines with their gladius (Roman swords) out.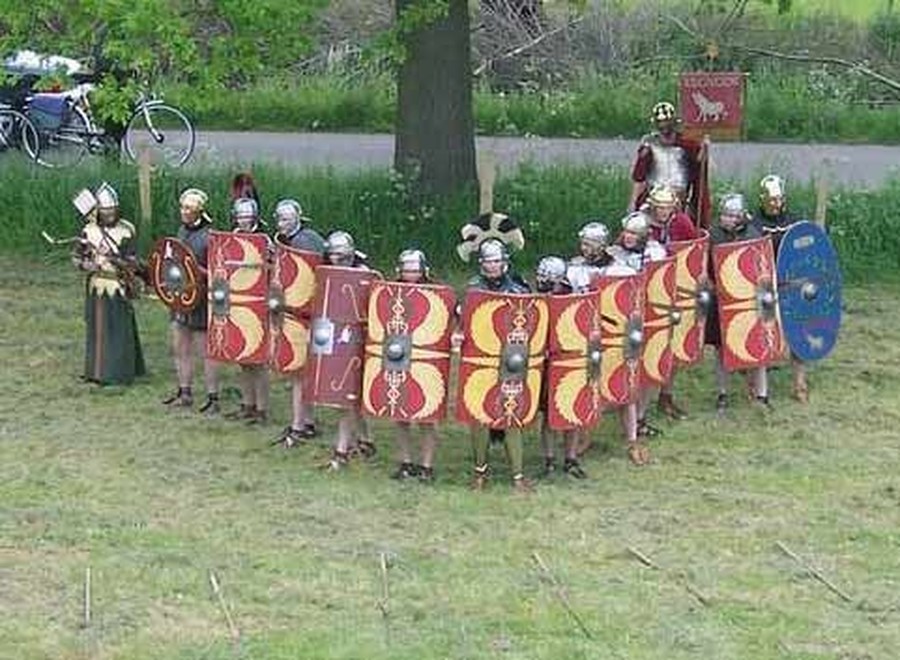 The Orb
The orb was a defensive formation in the shape of a complete circle which could be taken by a unit which had either become detached from the army's main body and had become encircled by the enemy, or a formation which might be taken by any number of units if the greater army had fallen into disorder during a battle.

It can hence be seen as a formation representing a desperate 'last stand' by units of a collapsing army. However, it can also be seen as a disciplined holding position by a unit which has been divided from the army's main body in battle and which is waiting for the main force to rejoin them.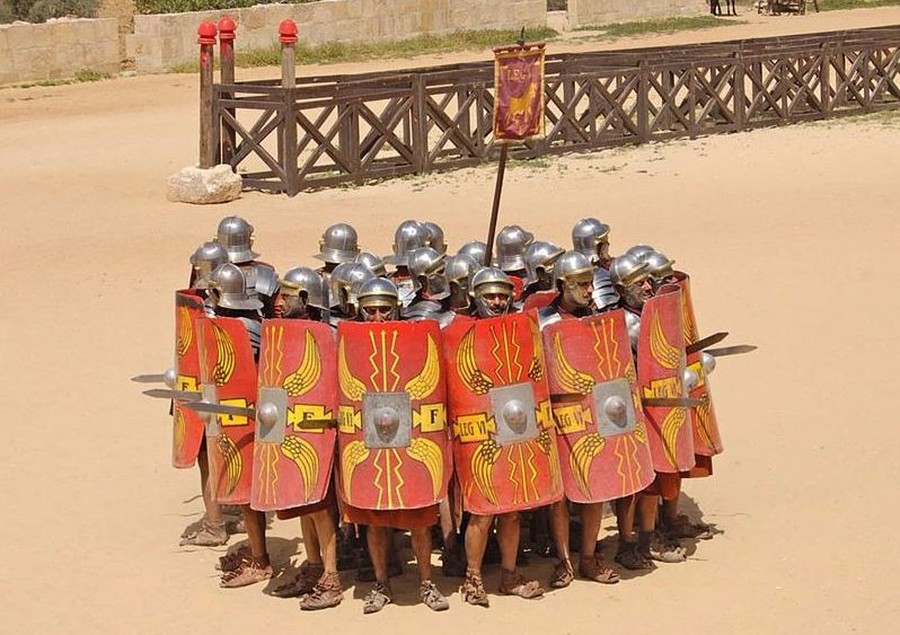 Maths
In maths, year 4 carried an investigation to see how many different necklace patterns we could design using only 8 beads, 4 of each colour. To make it even trickier, each design had to be symmetrical! We used multi-cubes to help us.
Science
In science we have been learning about the parts of the human digestive system and the jobs they do. We made a model using cotton wool, string, a balloon and other bits and bobs.
Roman day
To kick-start our Roman topic, year 4 had a Roman day. We learnt about the Romulus and Remus story, Boudicca's revolt, took part in a Roman quiz and even had a Roman feast that included dates, figs and flamingos (okay...not really...we had pink wafer biscuits instead!).
Year 4 Salt dough South America map
For our Rainforest topic, we have been studying the geography of South America. In partners, we made the map of this continent out of salt dough and then painted it. Finally, we added flags onto the map for each country.
Year 4 trip to Crowhurst corner
We recently visit Crowhurst corner, a local nature reserve, to find out more about the many species of animals that live in this area. We also got to help light a fire and made delicious Elder flower juice using flowers from a nearby Elder flower tree.
Rainforest Animal Workshop - Reptylers
To kick off our rainforest topic, year 4 had a visit from some very special guests visit! Take a look at the pictures below to find who...or what...came to visit!
British Science Week
It was British Science week during March so we did lots of exciting science investigations involving a very mssy lesson making goo that acts as both a solid and a liquid!
4RM's Ukulele performance
During the spring term, 4RM have been learning to play the ukulele. We ended this music unit with a big performance and invited 4KJ and our parents and carers to watch. Some of us even showcased our own songs!
Science - Sound
In science, we have been learning all about how sounds are made. Through a range of investigations, we came to conclusion that sounds are made from vibrations!
Brighton history trip
Year 4's topic this term is 'Brilliant Brighton' so on Tuesday 7th February, we went on a history and geography trip. As well as having a tour from a very knowledgeable guide, we also visited the magnificent Brighton Pavilion. A fun day was had by all and we learnt some very interesting facts about Brighton's past.
BBC Terrific Science Investigation 1 - Are you a Super taster?
Years 4-6 are taking part in a UK science initiative ran by the BBC called terrific science. For this investigation, we found out who in each class was a super taster. A super taster experiences bitter tastes more strongly than other people because they have a high number of taste receptors within fungiform papillae, the pink bumps on your tongue which contain the taste buds enabling you to taste sweet, sour, salty, bitter and umani flavours. Here are the results of how many super tasters were in each class:
4RM = 7
4KJ = 3
5DH = 9
5LR = 6
6JT = 9
6HL = 13
Find out much more at http://www.bbc.co.uk/terrificscientific
NSPCC numbers count day
Well done to year 4 for collecting lots of change in the numbers count challenge.
Science - Electricity
In science we've been learning about electricity. This included testing and building circuits with bulbs, motors and buzzers. We then investigated materials that conducted electricity and those that didn't (insulators). With that in mind, we had a go at building our own switches.
Roman fantastic finishers assembly
To celebrate the end of our Roman topic, Year 4 held an assembly to showcase all our good work to our parents and carers.
Roman shield making
We have been making Roman shields and are all very happy with our end products!
Pupil Voice
"I have enjoyed learning about Roman numerals this term as they were challenging." Layla
"I have really enjoyed maths this term as it can be tricky and challenging to solve the problems." Cameron
"I enjoyed learning about the Romans as I made my own Roman shield." Rossi
"The Romans were interesting and really got my attention. I enjoyed working in groups like the bee." Mai
"Sometime the maths can be challenging as the problems are tricky but I really enjoy this." Alfie
Science
In science, we investigated the effects that sugary drinks have on teeth. Instead of using teeth (for obvious reasons!), we used eggs as eggshells are similar to the protective layer of teeth called enamel. We set up a fair test and left each of 4 eggs in cup of milk, water, coke and orange juice. The results shown in the picture speak for themselves: Orange juice and coke are full of sugar which breaks down the eggshell over time. Just think what these drinks do to your teeth!
Roman Mosaics
For our Roman topic, we've been learning about Mosaics. First, we had to work like archaeologists and find bits of broken mosaics in the sand and then piece them together.
Japanese Calligraphy
We've been practicing calligraphy in our Japanese lessons. The symbol you see the pupils drawing in these pictures means either 'Book', 'The Moon', 'Sunset', 'Chesnuts' or 'Autumn' in Kanji, one of the Japanese writing systems.