* * * PLATINUM SCHOOL GAMES AWARD * * *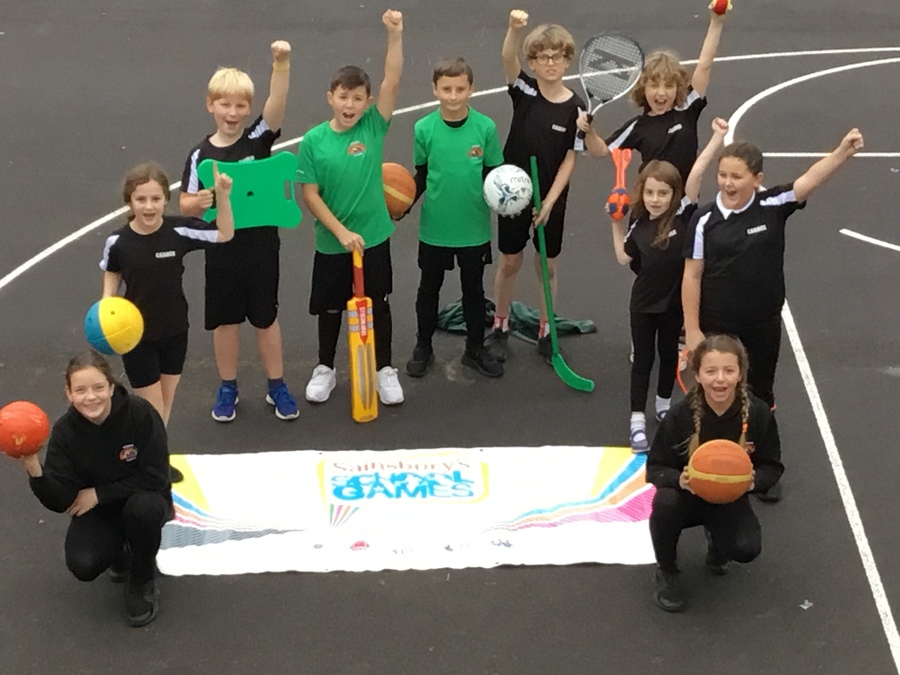 CARDEN PRIMARY SCHOOL wins prestigious national school sport accolade
A Brighton school has become one of the first schools in England to win a new national award for making a commitment to develop its students to be the best they can be in competitive school sport.
Carden Primary School was one of only 104 schools in the country to receive the special School Games Platinum Award. The Award is part of the School Games Mark, a government led awards scheme launched in 2012 and administered by national charity the Youth Sport Trust, which had close to 9,000 applicants this year. Its aim is to reward schools for a commitment to the development of competition across schools and into the community.
Participating in this process allows schools to evaluate their PE provision, grading them either bronze, silver or gold, and assists schools in developing an action plan for future progress. The Platinum Award is the new fourth level of the award scheme, introduced earlier this year to celebrate schools who had shown consistently high-levels of enthusiasm and commitment to school sport. Applications are only open to those schools who achieved five successive gold awards.
To achieve the gold award a school must meet a certain set of criteria, which includes engaging a high percentage of young people in both curricular and extracurricular activities, participating in a minimum number of competitions across different sports, and reaching out to target groups including young leaders, volunteers, and those previously identified as the school's least-active pupils.
Helen Longton-Howorth, Head Teacher said: "I am so pleased and proud that our fantastic PE team and children who have worked tirelessly to achieve this award have been successful. It is testament to our hugely successful sports and PE programme which is so beneficial to all our students."
Ali Oliver, Chief Executive of the Youth Sport Trust, said: "We are pleased to introduce the new Platinum Award this year to give these exemplary schools the recognition which they deserve. We are extremely proud of all our award winners for the passion which they have shown towards the School Games and their dedication to providing opportunities for all young people to take part in competitive school sport.
"At a time when young people are becoming less healthy and less active, the School Games provides opportunities for millions across the country to participate in sport and reap the benefits of an active lifestyle both on and off the field. Schools like Carden are really leading the way."
All Platinum Awards will be valid for two years and successful applicants will not be required to apply again in 2018. The school will have the opportunity to maintain their Platinum Award when next applying in Summer 2019.
For more information about the School Games Mark visit
https://www.yourschoolgames.com/how-it-works/school-games-mark/
See more on Twitter #SGMark
Visit to Queen Elizabeth Olympic Park
A group of children from Years 4,5 and 6 were lucky enough to visit the Olympic Park in London on 18th July 2017 to watch the World Para Athletics Championships. They watched in awe as athletes competed in the long jump, shot put, discus and a number of track events.
Youth Sport Trust
We have been awarded the GOLD Quality Mark for the forth year in recognition for our Physical Education, Physical Activity and School Sport. Carden have a very good relationship with the Youth Sport Trust and are regularly providing training in partnership for other colleagues and schools as part of our commitment to provide high quality PE and school sport across the city.
Afpe Distinction for Carden
We are very proud that Carden have received the Afpe award. We are one of only 80 schools in the country who have achieve this and the only Primary school in Sussex.
The Association for Physical Education (Afpe) is the only physical education subject association in the UK who are committed to help, support and PE in schools and the wider community.
We are very pleased with the award and look forward to working with Afpe in the future.
Press Release
Rachel Sheppard is a PE teacher at Carden Primary School and has been actively involved in the efforts to attain the highest level of the School Games Mark.
Rachel explained: "We are really proud to be part of the School Games Mark and especially of gaining the Gold Level.
"This is all about giving our children more experience and helping them be fit for life as much as it is about games in school. The benefits of active healthy sporty children are immense.
"We have been working to achieve the School Games Mark for the last three years. It's been on ongoing project for us because we realise the scheme is the way forward for our sports and helps us to offer a wide range of opportunities.
"For the first time this June, we had a Sports Week rather than a Sports Day. Everyone took part across the school. We included a range of minority sports, such as fencing, outdoor pursuits and martial arts, alongside the traditional sports, such as football, athletics and tag rugby. Different things suit different children and there was a great range of activities to try all week. We have decided to make this an annual event.
"We also have an extensive range of after school clubs and we organise competitions, both in school and with other schools. We encourage all our pupils to take part in these activities. The extras available help us to add to the sports provision during the school day and the children really enjoy what is on offer. Physical education has lots of benefits and, in combination with other areas of the curriculum, can have a big positive impact on all pupils."
Read the full report at...
http://www.brighton-hove.gov.uk/content/press-release/hop-skip-and-jumping-joy-schools-achieve-sports-award
Sainsbury's School Games Mark
The School Games Mark was launched nationally by the Government in the Olympic Year of 2012.
The scheme praises schools for competitive participation, sporting excellence and enthusiasm. To gain the School Games Mark, schools have to demonstrate they are offering pupils a range of sporting opportunities including competitions, an annual school sports day and encouraging sports leadership among young people.
Carden continue to participate to a high level in all of the competition available and for the fourth year in a row have achieved the GOLD MARK.